Mürren – a former settlement of people from the Lötschen valley in the Valais, which still remains recognisable today from the design of the houses and the pronunciation of the Mürren dialect – is the highest, continually inhabited village settlement in the canton of Bern and lies on a terrace at 1650 metres, high above the Lauterbrunnen valley. A double-cable ropeway leads up onto the plateau from Lauterbrunnen, while a cableway runs from Stechelberg, past turbulent waterfalls and craggy rock faces, into the centre of the car-free village of Mürren, and further to the Schilthorn at 2970 metres.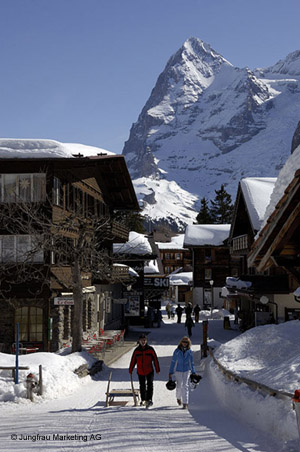 Welcome in Winter!

The winter sports region of Mürren-Schilthorn has 53 km of prepared ski and snowboard pistes, toboggan runs and a network of winter walking trails. Beyond the Lauterbrunnen valley, a further 30 or so cableways and lifts, and 160 km of pistes in the other ski areas of the Jungfrau region can also be used. There is an 11 km cross-country ski trail in the valley between Stechelberg and Lauterbrunnen.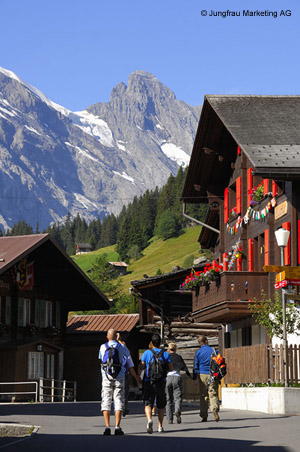 Welcome in Summer

Impressive views of the opposing mountain summits can also be enjoyed from Mürren. The holiday resort is the starting point for walks (200 km of walking trails), excursions and experiences. A funicular leads to the Allmendhubel, immediately above the village at an altitude of 1907 metres. Themed walks such as the North Face Trail, providing historical mountaineering information on the north faces, and the Flower Panorama Trail invite visitors to discover the region. Playgrounds and picnic areas are provided for families with children.